We Are Your Premier Connection For Legitimate Work From Home Jobs
The idea of working from home is rapidly growing in popularity throughout America. This new lifestyle is becoming more and more attractive to both workers and employers all across the country. American Diversified Publications, Inc. is helping people just like yourself make this new American dream a reality.
We have helped thousands of people just like you earn a great income from the comfort of their own home without the hassles of traffic, childcare, gas and long work hours. American Diversified Publications has researched thousands of Legitimate work from home businesses in order to compile a comprehensive publication of the most popular and profitable Legitimate work at home jobs and opportunities.
Our 100% Satisfaction Guarantee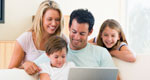 We are so confident in our complete work at home package, that if you are not 100% completely satisfied with our program, simply return all provided materials within the first 30 days for a full refund of your purchase price minus the shipping & handling fees.
Questions? Call Us.
1-985-643-1288